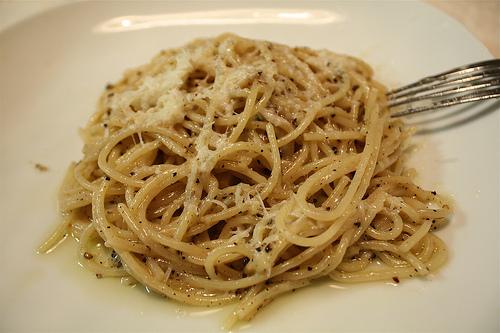 I find this particular recipe to be a little on the dry side, so you know what? Just add more butter to the cooking process. Your thighs won't thank you, but your taste buds will.
CACIO e PEPE
Salt
1 box of Pasta (bucatini, spaghetti, fettuccine, etc.)
3 tablespoons Unsalted Butter, cubed, divided
1 teaspoon freshly cracked Black Pepper
3/4 cup finely grated Parmesan
1/3 cup grated Pecorino
1.

Bring a pot of water to a boil. Season with sale; add pasta and cook, stirring occasionally, until about 2 minutes before tender. Drain, reserving 3/4 cup pasta cooking water.
2.

Meanwhile, melt 2 tablespoons butter in a large heavy skillet over medium heat. Add pepper and cook, swirling pan, until toasted, about 1 minute.
3.

Add 1/2 cup reserved pasta water to skillet bring to a simmer. Add pasta and remaining butter. Reduce heat to low and add Parmesan, stirring and tossing with tongs until melted. Remove pan from heat; add Pecorino, stirring and tossing until cheese melts, sauce coats the pasta, and pasta is al dente

(add more pasta water if sauce seems dry.) Transfer pasta to warm bowls and serve.